Perfect Paperback: 260 pages
Publisher: Tate Publishing (February 7, 2012)
Language: English
ISBN-10: 1613468547
ISBN-13: 978-1613468548
This book is also available as an e-book.
If you've ever wondered if angels exist, Lasso the Stars is about to convince you that they do. Or at the very least, make you hope they do. In gentle, softly written language a powerful story emerges:
Dina's doctor has delivered the most difficult diagnosis of all: her cancer is terminal. She is calm in the face of this devastating news and begins to evaluate her life while taking contemplative walks each day in the autumn sunshine.
Things are definitely winding down for her until, one day, she meets an intriguing stranger. "The man had an easy-going smile. A pair of aviator sunglasses rested on his nose. His dusty Levi's covered long legs that ended in well-worn cowboy boots . . . He stepped down off the gate and held his hand out. "Gil," he said, with a grin.
Dina is immediately attracted to the lean and weathered cowboy, who treats her with such respectful compassion. As for Gil, he finds himself not only admiring her courage but enjoying her company. Gil introduces Dina to a delightful world of horseback rides and picnics. Despite her illness, she begins to feel new energy surge through her as she responds to Gil, who is so attentive in her time of need.
At home, Dina and her sister, Rachel, share stories of growing up. Dina's goal is to leave her family with happy memories. The reader will laugh with them, then at them, and even tap their deepest sorrow, all while the love story between Dina and Gil continues to develop on many levels.
The tenderness Dina feels for her family blends softly with the new love she feels for the man in her life. But instinctively she knows Gil must be her secret. Who would believe a woman in her condition could meet such a man?
Dina and Gil enter a relationship where sexuality between them simmers, then boils over, all underpinned by exquisite tenderness and caring. When Dina finally tells Rachel of her relationship, her sister thinks that, due to the cancer medications, Dina is hallucinating and attempts to restrict Dina's daily wanderings.
Dina's health continues to deteriorate, even as she finds ways to see Gil. What a blessing that, at the end of her life, she has met a man who's such an angel! But as fall turns to winter, the promise of love begins to unravel, and questions arise that require answers. Soon Dina and Gil are faced with all the ways in which their new love is forbidden. Will they be able to lasso a future together? The answer will surprise you.
My take on this book:
Dina's time is limited, because she has been given the diagnosis of terminal cancer. So the last thing she should be thinking about is a relationship but that's just what happens when she takes a walk one afternoon and meets a handsome man wearing a tan cowboy hat whose name is Gil. Thing is during their first meeting Dina turns him down when he offers to go horse riding with her. She soon realizes this she allowed this to become a missed opportunity like so many others in her life. Deciding to take a risk the next time she sees him she takes him up on his offer of horseback riding, even though their relationship deepens what kind of future could they have together? You must read this book to find out!
Dina was a middle child, her older sister Jillian is a lawyer and her younger sister Rachel appointed herself as Dina's caretaker, determined to help her during her final days.I enjoyed learning about the sisters relationships as they shared memories some good some not so good. While I suspected from the beginning who Gil might be I still enjoyed the relationship that developed between the two.
Because this story was about terminal illness I feared that it could get very sad, instead the author weaves a story that touches the heart and provides encouragement to anyone who has lost a loved one, but more than that it gives the reader hope that they too may has someone to help them with their transition when their time comes. If your looking for a story that will stir your spirit, then you certainly need to read "Lasso The Stars."
About the author: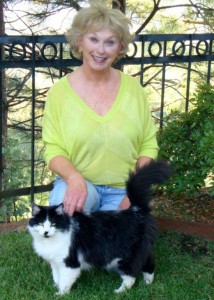 I always enjoyed a good story whether I was doing the telling or writing or listening. As a small child the highlight of my day was when my mother would read from a large notebook. Visions of fairies and pixies and flying elves would whirl around me as I listened with joy. Fish could dance the polka, kittens had tea parties, flowers could talk and frogs could jump so high they'd wake up the stars for a bedtime story. I listened to my mother read until I outgrew sitting in her lap. Never did I realize that the stories were her own.
Many years flew by and after my mother's death I had to close the old house. At the bottom of a drawer, tucked underneath the family Bible, I rediscovered that notebook of stories, written in her own hand. I read them again and experienced the same joy in her creations. I wondered why she'd never published a children's book and then realized that, in her mind, she was a mother and a housewife. Growing up in the mid-west, in a small town, she never considered being a published writer because it just wasn't done.
The moving company packed up the house and shipped the family belongings to California. But when I unpacked I found that not all the items had made the trip. By accident the notebook and Bible had gone on to be auctioned. My consolation was that I had read my mother's stories one last time and had, even as an adult, felt her love and creativity. She had given me, again, the gift of imagination and the encouragement to continue writing.
I realized that although writing was my passion, I had to have a real job. I chose a business career to support myself but continued to write articles for magazines and newspapers, as well as to provide information for interior design magazines. After many years of working in the business community, I moved to an old gold mining town in the Sierra Foothills. It was there I rediscovered the pleasure of writing fiction.
Lasso the Stars was born in the Pastures of Heaven, a small peaceful valley between Monterey and Salinas, California, made famous by John Steinbeck. But the book actually began much earlier, when two dear friends passed away from cancer. They often said they could either give in or fight. Both chose to wage a courageous battle; they became more spiritual; saw what others couldn't see. The thoughts they shared stayed with me.
I took up walking along the curving, dusty road that ran the length of the valley in the Pastures of Heaven. I discovered a run-down corral, a horse named Destiny and an old gate that led nowhere. Words and feelings continued to surface in my mind and an idea formed. Armed with memories of my friends and charged with a new responsibility to honor my friends' lives and perceptions, I began the journey of writing my first novel.
Eventually, I filed the manuscript and pursued other endeavors, until I moved to the Sierra Foothills. There, daily walking the old mountain roads, memories of my friends once again joined me and Lasso the Stars came out of seclusion, took flight and comes to you, now, on angel's wings.