Paperback:304 pages
Publisher: CreateSpace Independent Publishing Platform (June 7, 2012)
Language: English
ISBN-10: 1475068689
ISBN-13: 978-1475068689
This book is also available as an e-book.
Publication Date:
June 7, 2012
Zoe Grayson needs a change. So, she moves to another state, purchases an old, dilapidated 1920s Victorian Mansion, and sets out to restore it to its former glory. As she begins the restoration, she finds herself falling in love with the old house . . . not to mention its illustrious builder, Mr. Lancaster. Zoe becomes obsessed with the house as she discovers its secrets; hidden rooms, secret passageways . . . and a mysterious man who seems to think the house is his. Who is he? More importantly, how does he live in her home unseen and unheard?
The unexpected answers leave her reeling—and questioning everything she's ever known. To her dismay, Zoe's actions land her in the local psychiatric hospital, scheming for ways to return to Lancaster House . . . and the love of her life.
My take on this book:
I am a huge fan of paranormal fiction so I was excited to read "Lancaster House" by new to me author Taylor Dean. I found myself drawn into a story that provided several twists that kept me turning the pages to reach the final conclusion.
After breaking up with Connor Gage, twenty five year old Zoe Grayson decides she needs a change in her life, so she sells her successful interior design business in Arizona and heads to California to start over. She decides to look for a house to restore and since she has always loved old Victorian homes she decides to purchase an old 20's Victorian mansion, even though the history of the house has many thinking that it is haunted. As Zoe begins her work of restoring the home to its former splendor weird things start to happen that cause Zoe to question her sanity.
I loved the way this story was written. I was easily drawn into Zoe's story, and because of the way the story starts out I couldn't help but wonder what would ultimately happen with Zoe's character. The story opens up with Zoe meeting Dr. Wade Channing, a new doctor that has been assigned to her, so we learn her story as she tells it to him, but we also get bits of the story from the past. The author smoothly transitions between the two and kept me on the edge of my seat the entire time.The character of Andre was certainly a twist that I didn't see coming but really enjoyed. The reference to the Winchester House and its many dead ending staircases and secret passages really got my mind to racing as to how the Lancaster House was constructed.
If you enjoy reading paranormal fiction with a twist your certainly going to enjoy "Lancaster House" my only complaint is waiting for the next book in the series.
About the author: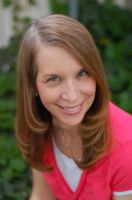 Taylor Dean lives in Texas and is the mother of four grown children. Upon finding herself with an empty nest, she began to write the stories that were always wandering around in her head, quickly finding that she had a passion for writing, specifically romance. Whether it's paranormal, contemporary, or suspense—you'll find all sub-genres of romance in her line-up. For more information on Taylor's books, please go to www.taylordeanbooks.com
Here are the links to the other tour stops on the ABG Tour be sure and check them out to see what other reviewers are saying about "Lancaster House."
September 4 Dive Under The Covers- Excerpt
September 5 Batty For Books Review
September 6 Batty For Books Guest Post
September 7 A Buckeye Girl Reads Excerpt
September 10 Book Girl Knitting Excerpt, & Review
September 11
Endless Days of Literary Ecstasy Review
September 12
Book Girl Knitting
Guest Post
September 13 Book Liaison
Author Interview
September 14 Mademoiselle Le Sphinx, Review
September 15 Mademoiselle Le Sphinx, Guest Post
Septebember 16 Offbeat Vagabound Review
September 17 WV Stitcher Review
NOW ON TO THE GIVEAWAY:
Thanks to the generosity of the author I have an e-copy of this book to give away to one of my lucky followers. Enter using the rafflecopter form. Contest will run thru midnight Sept. 28th.