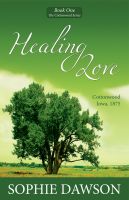 Cottonwood, Iowa 1875
Lydia Walcott is on the run. With a broken arm and a wounded spirit she is escaping the hands of her cruel brother and the marriage he has arranged. She's running to the unknown, praying God will lead her steps. Seeking shelter from an ice storm in a livery stable, Lydia goes to sleep hoping that in this small town of Cottonwood, Iowa she'll find a job, a place to live, friends, and a future.
Dr. Sterling Graham, having just delivered a baby, rides back to town over ice covered roads. He's confident and secure in the knowledge that he is loved and respected by the people of the Cottonwood. Exhausted from the long night, he decides to sleep on the cot in the livery.
Sterling's reputation and career, along with Lydia's hope for a new life, are put in jeopardy when gossips spread the news that, "Doc spent the night in the stable with a woman." The story grows as 'facts' are added.
Without money to travel on west, Lydia feels trapped by her sense of responsibility for the doctor's good name. Even with his practice at risk, Sterling's compassion for the young woman whose physical wounds he treated stirs his heart.
Something needs to be decided that will repair the damage to Sterling's career and give Lydia the home and safety she needs. The unwelcome solution is that they marry.
How do they learn about each other and mesh two lives into a successful marriage which honors God, while coping with issues of trust, pride, epidemic and injury, along with the fear that Lydia's brother will find her?
My take on this book:
Lydia Walcott's life in Ringle Iowa was far from easy. She was left in the care of her ruthless brother at the age of thirteen when her parents died. The only solace she found was with an older lady named Aggie Cuttler who befriended her and helped nurse her wounds whenever her brother became violent. Now at the age of twenty her brother Cyrus informs her that he has sold her to a man named Gus Botwright who is just as mean as her brother, and that she will have to marry him. When she refuses he beats her worse than he ever has. Lydia knows her only choice is to run away. With the help of her friend Aggie she winds up in the town of Cottonwood. Totally exhausted and unsure what to do she spends the night in a livery. Thing is the town doctor Sterling Graham spent the night in the livery as well. The story spreads like wildfire and the only way the two can save the doctors reputation is for them to marry. Can Lydia and Sterling make the marriage work? What will Lydia's brother do to get her back, and will she ever feel safe?
"Healing Love" was a story that was hard to put down. Once I started reading it I was easy to be drawn into the lives of the characters. I felt such empathy for Lydia and her plight, but even with the mistreatment from her brother she never lost her faith. Her brother was such an evil person, and I could understand why she felt the need to run. Thank goodness she had such a good friend in Aggie. As the story progressed I couldn't help but wonder what might happen to Aggie if Cyrus decided to pay her a visit. The undertone of the story really had me believing that God was at work whenever he put Lydia and Sterling together. As Lydia and Sterling began their married life I was able to see what a wonderful person he really was. There were several secondary characters that lived in Cottonwood that really added to the story. One of my favorites had to be Mrs. Henderson one of Sterling's patients. She was so kind to Lydia.
"Healing Love" has all the elements that make historical fiction one of my favorite genres to read. Sophie Dawson blends together the elements of faith, romance, inspiration, and a bit of suspense together with a fast moving plot and wonderful characters to make for a top notch read. If your a fan of historical inspirational fiction then "Healing Love" is a must read for you!
reviewed for Readersfavorite.com