About Downtown Green: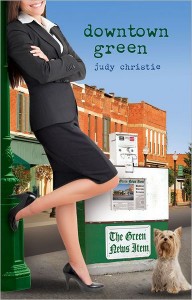 When the highway bypass around Green opens with much fanfare, downtown dries up faster than cement on the roadway. Businesses close and the hospital becomes a clinic. While the road is progress to some, it seems to be leading Green toward a national trend–a town that is merely a shadow of itself.
With the town going backwards, Lois Barker Craig is determined to save Green while juggling life as a new mom and owner of The Green News-Item. But can her plan rescue the town from the path it's on? And what about Dr. Kevin and her son, Mayor Eva, Coach Chris and other familiar Green faces? How does this affect them?
My take on this book:
I have actually read the first two books in this series, but then somehow got sidetracked and skipped the next two, but I really didn't have any problems jumping right into this story, and I was actually pleasantly surprised that this series isn't losing its momentum, instead the plot still seems fresh, and in large part I think its because of the wonderful characters, and the small town feel of the story! Also I always get a sense of community every time I read another Green story and that's something I really enjoy.
In "Downtown Green" the author could be describing any small town in America. When the new highway bypass diverts all the traffic away from Green downtown feels the effects.How will local businesses survive? Will someone be able to save Green from becoming extinct.
The main character of the series is Lois, the owner of The Green News-Item. Her character has come a long way, she is now a wife, and new mom, but she is still interested in trying to do what she can for the town. The author easily pulled me right back into the feel of this story, making me feel as if I was catching up with old friends. There is never a slow time with this story because the author provides several secondary characters that have their own story lines. For me I love the fact that the town always pulls together. Fans of contemporary christian fiction with a small town feel that beckons to the reader, and characters that are very easy to connect with will certainly enjoy this series!
About Judy Christie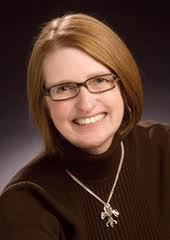 Author
Judy Christie
loves to help busy people slow down and enjoy each day more – in her series of novels about Green, Louisiana, and her Hurry Less Worry Less nonfiction books. Judy started her writing career as the editor of The Barret Banner in elementary school and has kept a journal since she was nine (and still has all of them). She likes strolling around flea markets, walking in the park near her North Louisiana home and visiting friends and family on her vintage green Kitchen Couch. Her most recent books are
Downtown Green
, fifth in the Green series, and "Hurry Less Worry Less for Moms." For more information, see
www.judychristie.com
.