Product Details
Paperback: 328 pages
Publisher: Revell (January 1, 2012)
Language: English
ISBN-10: 0800720741
ISBN-13: 978-0800720742
Book Description
Series:
Sisters at Heart
| Publication Date:
January 1, 2012
The War Between the States stole a father and brother from Faith Lindberg-- as well as Royal Baxter, the man she wanted to marry. With only her grandfather left, she dreams of leaving Noble Springs, Missouri, and traveling west to Oregon to start a new life, away from the memories that haunt her. But first she must convince her grandfather to sell the family's mercantile and leave a town their family has called home for generations.

When Royal Baxter suddenly returns to town, Faith allows herself to hope that her dreams might come true. Does he truly love her? Or could another man claim her heart? Will she find that following her dreams may not mean leaving home after all?

The characters in Where Wildflowers Bloom jump off the page and into the reader's heart. Author Ann Shorey infuses her characters with the virtues and quirks that bring them fully alive as they search for contentment and love.
My take on this book:
This book is the first in a new series and if it is any indicator the series is going to be a must read for lovers of historical fiction!
"Where Wildflowers Bloom" is set in the tiny town of Noble Springs Missouri. The civil war took Faith Lindberg's father, brother as well as Royal Baxter the man she promised her heart to before the war. Faith would like nothing better than to leave the memories of lost love ones behind and start over somewhere else, but her grandfather isn't so keen on leaving Noble Springs.Faith is surprised when Royal comes back to town, because she thought he was killed during the war. When Royal and Faith start courting, Faith's grandfather is less than pleased because he had hoped that Faith might develop feelings for Curt Saxon the young man who runs the livery and who has been helping Faith. Will Faith decide to stay in Noble Springs? Who will she choose?
I really enjoyed reading this book which allows us the flavor of the civil war because it takes place shortly after. The authors storytelling really pulled me in, with the richness of detail for the time period. The characters really came to life as well. I could easily understand why Faith wanted to leave Noble Springs. It was interesting to watch her character change and grow through out
the story. I also enjoyed Rosemary, who was a very good friend. I really enjoyed reading about the mercantile and all of the different goods that was stocked.
I think anyone who enjoys a very well written historical fiction with well drawn characters a fast moving plot with a sweet romance will certainly enjoy this story. I for one am anxious for the next book in the "Sisters at Heart" series.
Now on to the giveaway!

In Where Wildflowers Bloom, Book 1 in Ann's brand new Sisters at Heart series, Faith Lindberg wants nothing more than to escape her small Missouri town, and the graveyard of painful memories left by the Civil War.
She plans to sell her grandfather's mercantile, and join a wagon train bound for Oregon. But her grandfather, and a handsome stable man have other plans!
To celebrate the story, author Ann Shorey and Revell Books are proud to announce theMERCANTILE MEMORIES giveaway, featuring three incredible prizes.
GRAND PRIZE: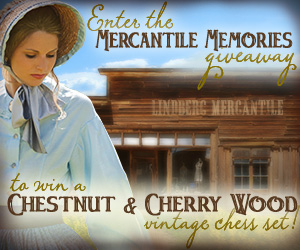 Our Grand Prize winner will receive an heirloom chess set, handmade from 1830s chestnut & cherry wood, just like the one Judge Lindberg and Curt use in their chess battles.
SECOND PRIZE:
Our Second Prize winner will receive a deluxe, Missouri-shaped box of mercantile goods from the Missouri Mercantile company. The box features an assortment of items just like those stocked by Faith in Lindberg's Mercantile.
THIRD PRIZE:
Our Third Prize winner will receive a Memoirs Gift Set. Write your memoirs just like Judge Lindberg does in the story! The set includes the bestselling Writing the Memoir book, and a $30 gift card to Blurb.com, to create and print your book.
A copy of this book was provided by the publisher in exchange for an honest review.
"Available January 2012 at your favorite bookseller from Revell, a division of Baker Publishing Group."