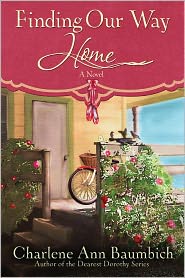 Pub. Date: March 2012
Publisher: The Doubleday Religious Publishing Group
Format: Paperback , 336pp
Synopsis from Barnes and Noble:
The road home can be daunting—and sometimes it takes a very capable girl on a bicycle to help find the way.
When principal ballerina Sasha Davis suffers a career-ending injury at age thirty-eight, she leaves her Boston-based dance company and retreats to the home of her youth in Minnesota. But Sasha's injuries restrict her movement and her recently deceased mother's absence haunts her. Since she can't recover alone, she is forced to hire a temporary live-in aide.
Enter the
über
capable Evelyn Burt. As large-boned as Sasha is tiny, Evelyn is her employer's opposite in every way. Small town to Sasha's urban chic, outgoing warmth to Sasha's aloof iciness, and idealistic where Sasha is hopeless, nineteen-year-old Evelyn is newly engaged and sees the world as one big, shiny opportunity.
Evelyn soon discovers Sasha needs to heal more than bones. Slowly, as the wounds begin to mend and the tables tilt, the two women form an unlikely alliance and discover the astounding power of even the smallest act done in the name of love.
Finding Our Way Home
is a story of second chances and lavish grace.
My take on this book:
Sasha Davis left home at seventeen when she was accepted to Julliard to follow her dream of becoming a ballerina. Now she finds herself back in her childhood home, unable to dance and barely able to get around after an accident with her dancing partner, who also happens to be her husband occurs. Needing assistance she hires outspoken Evelyn Burt, an optimistic nineteen year old who is a positive upbeat ray of light that refuses to allow Sasha to wallow in pity. As Sasha's physical injuries start to heal, so does her outlook, meanwhile upbeat Evelyn has something happen that she struggles to deal with.
Sasha was a character that grew on me, in the beginning I really couldn't like her at all but by the end of the story I loved her. It was easy to empathize with her, she had suffered a life changing accident, that made her dependent on someone else, also she had isolated herself from her husband, to add to all of this she was grieving the loss of her mother. It was so nice to see her grow spiritually through out the story. Easily my favorite character had to be Evelyn. She seemed so much older than her nineteen years.Evelyn was often outspoken, but was such a caring, giving individual that was so easy to relate to. She had a good relationship with her grandfather, but her relationship with her parents was a bit shaky because of a few choices she made, one being her fiancee. While I could understand why she fell for her fiancee, I was also glad that the relationship worked out the way that it did. As an avid birdwatcher I could easily understand why Sasha found comfort in watching the birds, a hobby that Evelyn introduced her to.There was also an interesting story woven around a snow globe that added a bit of fantasy to the story.
A story with a small town setting about healing, spiritually as well as physically, that also weaves together friendship and a few life lessons that makes it a great little read.
*

A complimentary copy of this book was provided by the publisher in exchange for an honest review*