Product Details
Mass Market Paperback: 464 pages
Publisher: Forever; 1 edition (September 1, 2011)
Language: English
ISBN-10: 0446582840
Review copy provided by the publisher.
About the book:
Nikki Hunt thought her night couldn't get worse when her no-good, cheating ex ditched her at dinner, sticking her with the bill. Then she found his body stuffed in the trunk of her car and lost her two-hundred-dollar meal all over his three-thousand-dollar suit. Now not only is Nikki nearly broke, she's a murder suspect.

Former cop turned PI, Dallas O'Connor knows what it's like to be unjustly accused. But one look at the sexy-though skittish-suspect tells him she couldn't hurt anyone. The lead detective, Dallas's own brother, has the wrong woman and Dallas hopes a little late-night "undercover" work will help him prove it . . .
My take on this book:
Nikki Hunt finances are in the tanker when she gets a call from her ex-hubby to meet at a fancy restaurant, she goes anticipating at least a good meal, but when he is distracted by phone calls he steps out for a bit and sticks her with the two hundred dollar check which she knows will overdraw her checking account. She mumbles she could kill him, which a few people overhear. She gets the shock of her life when she pops the trunk and finds his dead body inside, and whats worse is she becomes the prime suspect in his murder.
Dallas O'Connor who is part of The Don't Mess With Texas PI Agency, was in the area when Nikki's ex was found in her trunk, actually he was so close that she actually pukes on him a few times. Dallas knows what its like to be falsely accused and decides he is going to help prove that Nikki is innocent.
I loved the characters in this book, and the one word that comes to mind is funny! I loved Dallas' dog Bud, a gassy English Bulldog who slept in a casket, and Nikki's Nanna was a real hoot! The descriptions are so vivid it was easy to see the scenes unfolding in my head. While the main characters are Nikki and Dallas the secondary story between Tony and Leann really held my attention as well.
Christie Craig is a new to me author whose writing style has hooked me. She weaves together romance, comedy, mystery, and a fantastic cast of characters to spin a tale that moves along at a super fast pace and never misses a beat! A great kickoff for an exciting new series, that is well worth reading! Highly recommended.
About the author:
Christie Craig, an Alabama native, is an award-winning, multi-published writer, multi-published photo journalist, motivational speaker, and writing teacher.. Her non-fiction articles and photography have appeared in almost three thousand national magazines. A Golden Heart finalist, and a finalist in more than fifty RWA-sponsored contests, she has gained a well-deserved reputation for writing romance fiction that has both witty humor and a suspenseful, sexy tone. Published by Silhouette in the 90s, she recently broke back into fiction in a big way, making four book sales in one day. Her seventh humorous single title romance novel, published by Dorchester, will hit the stands in June 2010. Her non-fiction book, co-authored by Faye Hughes, released September 08, is
The Everything Guide To Writing A Romance Novel
and their second non-fiction book, a humorous self-help relationship book,
Wild, Wicked and Wanton: 101 Ways to Love Like You Are in a Romance Novel
is scheduled to be released December 2010. Craig's latest writing adventure is the sale of a young adult paranormal romance series,
Shadow Falls Camp
, that will be published by St. Martins Press in the near future.
Christie Craig presents: 15 Things you'll learn from Don't Mess With Texas that might surprise you:
1.
Never, ever feed a dog broccoli.
2.
You might be surprised how the weight of a dead body in the trunk of your car can go unnoticed.
3.
Don't ever joke about killing your ex . . . in front of witnesses.
4.
In the right situation, vomiting on someone can endear them to you.
5.
When a good-looking detective steals your underwear, he may not be a pervert; he could just be looking for blood splatter evidence.
6.
Some men think hospital gowns are sexy, especially when a breeze comes by and a detective already stole your underwear.
7.
When your grandmother is getting more action than you are, something's not right with that picture.
8.
Bed bugs are nasty little creatures but they can come in handy when trying to get someone to fall back in love with you.
9.
In the right set of circumstances, morphine can be an aphrodisiac.
10.
The consumption of five cupcakes when your heart is hurting is not always a bad thing.
11.
The way a couple shares an ice cream cone tell the viewing public if they're sharing bodily fluids.
12.
Nothing can bring all the unresolved issues to the surface in a romance more than finding a naked woman in your boyfriend's bedroom.
13.
The journey to fall in love isn't all sweetness and light; it can also have its darker moments where you hurt like hell but it's still a journey that makes life worth living.
14.
Love can make you laugh so hard you pee in your pants, but it can also make you feel like as though a pit bull just used your heart as a chew toy.
15.
Things really are hotter in Texas.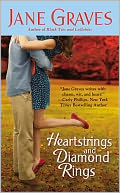 Product Details
Mass Market Paperback: 448 pages
Publisher: Forever (September 27, 2011)
Language: English
ISBN-10: 0446568481
Review copy provided by the publisher.
He's The Man Of Her Dreams...
In a world full of frogs, Alison Carter is determined to find her prince. Maybe her dating past is more Titanic than Love Boat, but she's seen enough happy marriages to know that true love is possible. No matter what, she won't give up on happily-ever-after. If she can't find Mr. Right, she'll simply hire someone who can.
SHE JUST DOESN'T KNOW IT YET
When Brandon Scott inherits a successful matchmaking business, he thinks his prayers have been answered. Set up a few lonely ladies, collect the fee, how hard can it be? No one needs to know he's not really a professional matchmaker-especially not his first client, the beautiful, spirited Alison. Soon he's falling for her-and her dreams of kids and carpools. But Alison is getting close to figuring out his secret, and if she learns he's deceived her too, she'll walk right out the door, taking Brandon's heart with her.
Alison Carter is successful in every aspect of her life, well except for one, she can't seem to find Mr. Right. She thought her latest boyfriend might be the one, and actually anticipated a proposal, well she got a proposal all right but not the one she was hoping for. So after kicking him to the curb she commiserates with her best friend Heather, (who is happily married BTW) who suggests she go to a matchmaker with a proven record. Alison decides to do it, but learns the matchmaker has died and her grandson Brandon, who just wants to earn some fast cash has taken over the business. He convinces Alison to use his services by making her believe he knows what he is doing, and he is pretty sure it won't be that hard anyway, after all he has dated plenty of women and thinks he knows what they want. As he gets to know Alison though he can't quit thinking about her. Can Brandon help Alison find Mr. Right, or is she destined to be alone forever?
I have read a few of Jane Graves novels and always enjoy them. I like that her characters always feel real, and seem down to earth. I always find myself zooming thru her books because its so easy to get caught up in the characters, and this story was no different. I really liked Alison, and could easily envision how she felt about wanting marriage and children. Brandon was the opposite of Alison, he wasn't interested in marriage at all, or so he thought. Romance, great characters, and a fast moving plot with more than a few laughs made this a fantastic read!
Growing up, Jane Graves dreamed of becoming a veterinarian, but she was told by her high school counselor that it was "a difficult field for a woman," so she should pick another career--maybe something as a writer, since she had shown some talent in that area. Since her assertiveness didn't come until later in life, Jane did as she was told and attended the University of Oklahoma, where she earned a B.A. in Journalism in the Professional Writing program.

In 1999, Jane was a finalist for Romance Writers of America's Golden Heart Award, which honors the best unpublished manuscripts in any given year. This led to the sale of her first book. To date, she has written ten series romances (under the name Jane Sullivan) and eight single-title contemporary romances.

Jane is a seven-time finalist for Romance Writers of America's Rita Award, the industry's highest honor, and is the recipient of two National Readers' Choice Awards, the Booksellers' Best Award, the Golden Quill, and the Windy City Choice Award, among others. Her books have been translated into more than a dozen languages, with three titles reaching the Top 100 on Amazon Germany. Her most recent release, TALL TALES AND WEDDING VEILS, appeared on the Barnes & Noble Bestseller List.

Jane lives in the Dallas area with her husband and a beautiful but crafty cat who rules the household with one paw tied behind her back. Jane loves the writing life, so she's very glad a certain high school counselor pushed her into the right career, even if it was for all the wrong reasons.
A note from Jane Graves:
Plano, Texas is a perfect setting for my series because it's an exercise in contrast, just as my characters are. In West Plano, people live in McMansions, drive Lexus SUVs, drink a lot of Starbucks coffee, and play a lot of golf. West Plano is upper-class Texas living with a sprinkle of glitter and a swimming pool in every backyard. East Plano used to be home only to blue collar folks who live in fifty-year-old tract homes with pickup trucks out front. Then the light rail came through and connected Plano to downtown Dallas, and the old downtown area was revitalized with trendy condos, restaurants, and bars. East Plano is middle-class Texas living with a touch of urban cool.
Alison Carter from HEARTSTRINGS AND DIAMOND RINGS owns a condo in downtown Plano, while the hero of that book, Brandon Scott, lives in a Victorian house on the edge of downtown he inherited from his grandmother. Because of its diversity, Plano, Texas gives me a great opportunity to show who my characters are by where they choose to live.