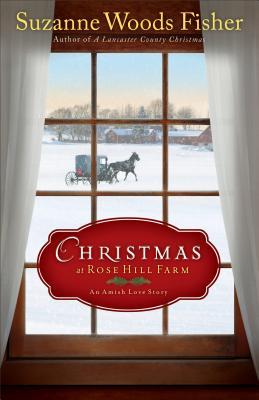 Hardcover: 240 pages
Publisher: Revell (September 2, 2014)
Language: English
ISBN-10: 0800721934
ISBN-13: 978-0800721930
Bess Riehl is preparing Rose Hill Farm for her Christmas wedding, but her groom isn't who she thought it would be. Billy Lapp is far away from his Amish roots working as a rose rustler for Penn State and wants nothing to do with Stoney Ridge, his family, or Bess. And that suits Bess just fine. Why should she think twice about a man who left without a word, without any explanation? It's time she moved on with her life, and that meant saying yes to Amos Lapp, Billy's cousin and best friend. But as Bess and Amos's wedding day draws near, her emotions tangle into a tight knot. She loves Amos. Yet she can't forget Billy.

When a "lost" rose is discovered at Rose Hill Farm, Billy is sent to track down its origins. Get in, identify the rose, and get out. That's his plan. The only catch is that he's having a hard time narrowing down the identity of the lost rose, and he can't get those tropical blue eyes of Bess Riehl out of his mind.

As the history of the lost rose is pieced together, it reminds Bess and Billy--and Amos, too--that Christmas truly is the season of miracles.

Join bestselling, award-winning author Suzanne Woods Fisher for an Amish Christmas to remember. Filled with heart-twisting moments amid the sweet anticipation of love, this story will charm readers into the holiday spirit.
My take on this book:
Suzanne Woods Fisher has a wonderful way of allowing me to connect with whatever character she is writing about.The stories always seem real, and I always find myself thinking of the characters long after the final page is read. With Christmas at Rose Hill Farm, there is a bit of mystery, and of course romance, but there is plenty of information about roses as well, and honestly reading this book makes me want to try my hand at growing some!
Bess Riehl loves Billy Lapp but when he left the Amish community she had to move on, and now she is getting read to marry his cousin Amos, but when a rare rose is discovered at Rose Hill Farm Billy, who is sort of an expert on roses comes back to identify the rose. Of course this stirs up all kinds of feelings, not only for him but Bess as well. How will this affect Bess and her wedding plans? A short but satisfying read that certainly is perfect for the Christmas season.
A complimentary copy of this book was provided for review.