ABOUT THE HEART STONE:
When the biological father of Jessica MacAllister's son decides to break their custody agreement, Jessica and her son visit her Uncle George for advice and refuge…
Following a year of grief, Evelyn Sweeney is finally ready to move on. Pondering her new path in life, her mind drifts to her first love, George MacAllister…
When the lives of these two women cross, they discover that one heart-shaped ring binds their stories together. But will the results be a rekindled faith and new hope, or will it lead them both back into the darkness they've fought for so long?
Purchase your copy:
My take on this book:
"The Heartstone" by Sherry Kyle pulled me in from the first sentences. It had been six years since Jessica MacAllister had given birth to her son Jacob, whom she had raised by herself. The birth father Andrew Lawson, had relinquished his rights, and she had hoped and prayed never to hear from him again. So when she gets a call out of the blue from him wanting to see Jacob she decides it's time to leave Fresno for a bit and go visit her uncle George in Santa Cruz for the week.
Evelyn Sweeney never imagined she would be alone in her sixties, and could hardly believe her husband of forty years was gone. After a year though she is ready to move forward and close that chapter of her life, and start a new one. She can't help but wonder though what ever happened to her first love,someone she hadn't seen in 43 years.
Nick Fuller is a firefighter who enjoys hanging out with his friend Aaron and his family, but it leaves him longing for his own family, if only he could find someone special. When he learns that a childhood friend is accused of murder and on the loose, Nick is certain his friend AJ isn't guilty, and says a prayer for him.
The author does a wonderful job of transitioning between the three stories until they are woven together. Each character comes to life, and are so easy to relate to. I especially enjoyed the story that revolved around Evelyn, who was searching for an old love, but also found the story that develops between Nick and Jessica was great as well.As the story progresses we see the plan that God has in store for each character! "The Heart Stone" is by new to me author Sherry Kyle, and honestly I am not sure how I missed her previous work, but as a fan of Christian Fiction will certainly be checking out the rest of her work. If you enjoy a contemporary story, filled with hope and second chances, with an ending that will put a smile on your face then this is the book for you!
ABOUT SHERRY KYLE: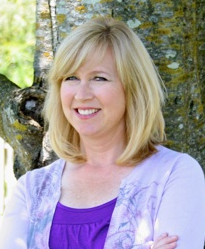 Sherry Kyle is a graduate of Biola University with a degree in Communications, and a minor in Bible. Sherry is also a graduate of the Institute of Children's Literature. She currently has three books in print, her award-winning book for tween girls titled
The Christian Girl's Guide to Style
all about beauty, fashion, and character,
Delivered with Love
, her debut contemporary novel, as well as
The Heart Stone
by Abingdon Press. Sherry and her husband have four children, three biological and one by adoption. She lives along the coast in central California.
Connect with Sherry: