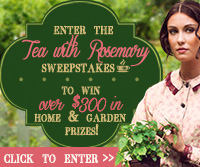 In
When the Heart Heals
, Book 2 in author Ann Shorey's
Sisters at Heart
series, Civil War nurse Rosemary Saxon wants to use her skills as a healer in the town of Noble Springs. But the townsfolk, and the town's new doctor, aren't sure what to make of her unconventional ways!
To celebrate the story, Ann and Revell Books are proud to announce the
TEA WITH ROSEMARY
giveaway, featuring three incredible prizes.
6 MONTH ARTISAN BREAD CLUB MEMBERSHIP
Rosemary's artisan breads are a town favorite. Our grand prize winner will enjoy fresh-made artisan breads just like Rosemary's, delivered right to their door with a Zingerman's 6 month Bread of the Month Club membership.

SECOND PRIZE:
GROW YOUR OWN GARDEN STARTER KIT
Rosemary's garden is a source of healing for many in the town of Noble Springs. Our second prize winner can grow their very own herb garden, from the comfort of their kitchen.

THIRD PRIZE:
ROSEMARY'S KITCHEN PRIZE PACK
Rosemary's hand-blended teas and soaps are sold at the town mercantile and grocery, and are a favorite of several of the town's eligible bachelors. Our third prize winner will have the chance to create their own special tea blends, and enjoy soap just like Rosemary's.
ENTRY RULES:
Entrants must be US residents, and 18 years or older.
READY TO ENTER?
About the book: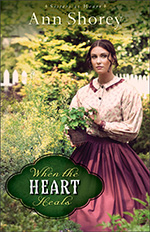 Courageous and unconventional, Rosemary Saxon served as a nurse during the Civil War, a service that has caused most women in town to regard her as unfeminine and downright vulgar. Although she would like to put her experiences as a nurse behind her, she must support herself. Rosemary takes a position with Dr. Elijah Stewart and a mutual attraction begins to develop.
But when a sophisticated woman arrives in town claiming to be Elijah's fiancée, a heartbroken Rosemary decides to leave Noble Springs and start fresh. Can Elijah convince her of the mystery woman's deception before he loses her forever?
Return to the town of Noble Springs, Missouri, for an engrossing story of love's tentative first steps and fragile future in the face of opposition. Readers will find in Rosemary a sympathetic but strong woman determined to thrive in a world that doesn't always understand.