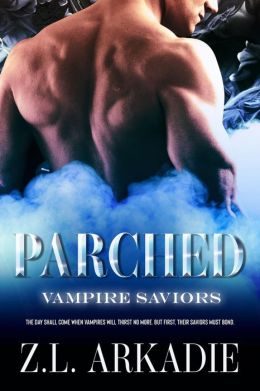 Paperback: 226 pages
Publisher: CreateSpace Independent Publishing Platform (August 10, 2011)
Language: English
ISBN-10: 1463760922
ISBN-13: 978-1463760922
This book is also available as an e-book.
Publication Date:
August 10, 2011
| Series:
Parched
Get to know a new kind of Vampire for our kind of world…
"Baron Ford, he says and pauses to pick apart my expression, attempting to read how familiar I am with that name. I nod stiffly to give no indication I know exactly, who that is. I'm shocked to hear it in this setting, at this stage of my life, the one far away from Cambridge, Massachusetts over five years later."
Advertising Exec, Clarity Parker thought she would never see Baron Ford again. Five years ago, she fell in love with him on their magical first date and then poof–he literally vanished into thin air. That's why she's past stunned to hear his name again. After all, five years have passed since that night. And to add intrigue to what Clarity considers an embarrassing and unforgivable insult, he's asked that she be exclusively assigned to his multi-million dollar account.
Clarity tries her hardest to avoid Baron but he finally catches up to her and when he does, he issues a warning–things are not safe for her, especially since the fog has rolled in.
Before the day is over her entire world will come crashing down on her. Everything about her life that she thought was true is a lie, and she doesn't know whether to jump for joy or rage against everyone who's deceived her. However, she has no time to choose between reactions. Baron was right. Her life is in danger–so is his, and they need each other to fight the forces of evil that threaten them both, and possibly the entire world!
One thing's for sure, from this point on, their lives will never be the same.
For a limited time "The Seventh Sister, A Vampire Romance" which just happens to be book two in the Parched series is free over on Amazon, click here to check it out.
About the author:
I have a BA in Broadcast Journalism and an MA in Communications Studies from California State University, Los Angeles. For the past three years I've read scripts, providing coverage for production companies and screenwriting contests but have been writing fiction consistently for 12 years.
Less formally, I absolutely love TV and am not ashamed to admit it! I've recently completed all 7 seasons of The Gilmore Girls and am watching all 7 seasons again. Before The Gilmore Girls, I watched all 4 season of Felicity about 4 times. I'm holding my breath, waiting for China Beach to be released on DVD. And I have a remarkable list of favorite TV shows, Mad Men competing for the top spot with Fringe. Yes indeed, I love TV. I also love Seattle, Washington, which feels like the color blue to me—tranquil, cool and yet vibrant. And more importantly, truly what I love most is writing—and to watch the world around me so that I can tell its stories. Also, visit me at
http://zuleikaarkadie.wordpress.com/
.
Heroines With Heart is a massive blog tour that runs throughout 2013, that features books with strong female protagonists. We have authors from several different genres, including young adult, mystery/thriller/suspense, romance, sci-fi/fantasy, and Christian fiction. We are also giving away fun digital prizes and sharing new and noteworthy books throughout the year. Want updates?