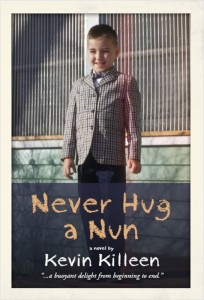 Paperback: 198 pages
Publisher: Blank Slate Press (December 1, 2012)
Language: English
ISBN-10: 0985007109
ISBN-13: 978-0985007102
This book is also available as an e-book.
Publication Date:
December 1, 2012
AUTHOR'S MISSPENT BOYHOOD INSPIRES COMIC NOVEL ABOUT GROWING UP IN WEBSTER GROVES
From first crushes and cafeteria lines, hidden forts and secret passwords, learning the Cub Scout oath and robbing the Ben Franklin, to hanging out on the train tracks, running from the police, enduring stuffy classrooms and, of course, dodging projectile vomit, Never Hug a Nun laces the reader into the Keds of young Patrick Cantwell—a boy who really wants to be good, but who, like his hero The Wolfman, always seems to fall short.
Set in Webster Groves in 1966, the story takes readers on a laughing, head-shaking, I-remember-doing-that-stuff ride through the rigors of practicing good penmanship, the rites of spring kickball, unsupervised summer days filled with Velvet Freeze daydreams of starting a band at least as good as The Beatles, and, finally, to those dying seconds when a boy reaches out bravely to hold the 220-volt live wire of a girl's hand.
Read an excerpt of Never Hug a Nun HERE.
My take on this book:
This book takes place during 1966 in St. Louis Missouri. In "Never Hug a Nun" we meet seven year old Patrick Cantwell, who is nearing the end of his first year in Catholic school. He has recently discovered girls, and not just any girl but Ebby Hamilton who is different than the other first grade girls, after all she can write in cursive while the others are still only able to print. Patrick is so like your average boy trying to stay out of trouble, but trouble somehow seems to find him. From Patrick's first crush to trying cigarettes, we see the world thru the eyes of Patrick as he goes from a first and second grade.
This book really gave me a feeling of nostalgia many of the things mentioned in the story had me thinking about my own childhood. Patrick was an easy to like character and his antics, along with short easy to read chapters made this book a quick read. I enjoyed meeting the Cantwell family, who were an interesting bunch. From his brothers, John and Teddy to his aunt Jenny who may or may not become a nun. Overall, I thought the author did an amazing job of allowing us to see things thru a seven year old boys eyes.It was nice to be transported back in time when life was much simpler.While not a story that I felt compelled to read in one sitting, I did enjoy the adventures of Patrick.
About Kevin Killeen
A reporter with KMOX radio since 1995, Kevin Killeen has confused listeners for the past ten years with his regular morning feature, A Whole 'nother Story. Killeen has also authored the KMOX Holiday Radio Show, an original comic play with a holiday theme, for the past 15 years or so. In Never Hug a Nun, Killeen attempts to escape his declining faculties, by casting his mind back to the days of his youth when he spent long summer days on the train tracks or hanging out at the Velvet Freeze and wishing he were a teenager.
A 1982 graduate of UMSL, Killeen studied fiction writing under comic novelist David Carkeet who corrupted him with thoughts of getting published someday. Married with four children, Killeen enjoys asking his kids — again — to please, pick up their shoes, moving the sprinkler around a dying lawn, and going to garage sales on Saturday with his mother.
Kevin Killeen's TLC Book Tours TOUR STOPS: