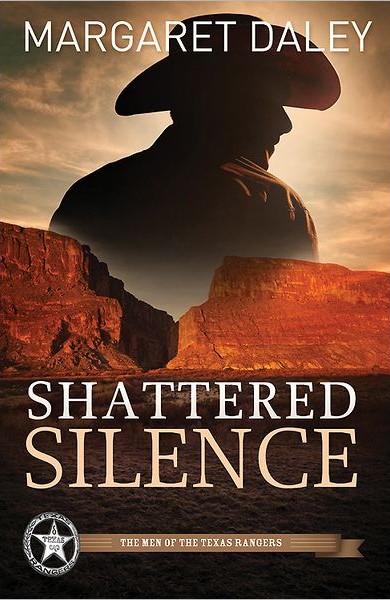 Paperback: 336 pages
Publisher: Abingdon Press (September 2012)
Language: English
ISBN-10: 1426714297
ISBN-13: 978-1426714290
Publication Date:
September 2012
| Series:
Men of the Texas Rangers (Book 2)
A serial killer is targeting illegal aliens in southern Texas. Texas Ranger Cody Jackson is paired with a local police officer, Liliana Rodriguez, to investigate the murders. While the case brings Cody and Liliana ever closer, the tension between Americans and Mexican Americans heightens. As Cody and Liliana race to discover who is behind the murders and bring peace to the area, what they uncover isn' t what they expected. Will Cody and Liliana s faith and love be strong enough to survive the storm of violence?
My take on this book:
I love reading Christian suspense that delivers a good faith based message but also manages to keep you on the edge of your seat, and "Shattered Silence" delivers in spades!
The reason Texas Ranger Cody Jackson made the move from Houston to the small town of Durango was two fold. First of all he thought the move would be good for his fifteen year old son Kyle, although he knew it would be hard in the beginning especially with the death of Kyle's mother, he had wanted to get his son away from the influence of his stepfather Nate and the crowd he ran with in Houston. The second reason he had come to Durango was because his mentor Al Garcia, had served as ranger in the Durango area but was forced to retire early after being shot. Cody hoped he might be able to figure out who shot his friend Al. After being in town for a few hours he learns of a dead body in an abandoned house and that's where he meets Detective Liliana Rodriguez, whom he will be working with to try and solve the killing. Soon though they have more than one murder on their hands, can they put the pieces together and figure out who is committing the killings?
This was a fast paced suspense filled story with elements of faith, romance and family life woven in. While it was the second book in The Men Of The Texas Rangers series it can easily be read as a stand alone work. I didn't read the first book in the series and had no problems being drawn right into this story.The main characters Cody and Liliana both have family issues, Cody is dealing with fifteen year old Kyle who isn't really happy about the move, he would rather be back in Houston. Liliana grew up in an abusive home, and now she is dealing with the fact that her older sister Elena is living with an abusive husband. As the story progresses we see the characters grow and change, it was so nice to see the relationship develop between Cody and Liliana. Fans of christian suspense with a side of romance thrown in will certainly enjoy this story.
Margaret Daley is an award winning, multi-published author in the romance genre. One of her romantic suspense books, Hearts on the Line, won the American Christian Fiction Writers' Book of the Year Contest. Recently she has won the Golden Quill Contest, FHL's Inspirational Readers' Choice Contest, Winter Rose Contest, Holt Medallion and the Barclay Gold Contest. She wrote for various secular publishers before the Lord led her to the Christian romance market. She currently writes inspirational romance and romantic suspense books for the Steeple Hill Love Inspired lines, romantic suspense for Abingdon Press and historical romance for Summerside Press. She has sold eighty-three books to date.
Margaret is currently the President for American Christian Fiction Writers (ACFW), an organization of over 2300 members. She was one of the founding members of the first ACFW local chapter, WIN in Oklahoma. She has taught numerous classes for online groups, ACFW and RWA chapters. She enjoys mentoring other authors.
Until she retired a few years ago, she was a teacher of students with special needs for twenty-seven years and volunteered with Special Olympics as a coach. She currently is on the Outreach committee at her church, working on several projects in her community as well as serving on her church's vestry.
On a more personal note, she has been married for over forty years to Mike and has one son and four granddaughters. She treasures her time with her family and friends.