I would like to welcome Hank Quense author of "Falstaff's Big Adventure" to my blog!
Eleven Things You Didn't Know About Hank Quense's Writing;
1: He writes only humor and satiric scifi and fantasy. He refuses to write serious fiction. He says a reader who wants to see serious genre fiction can get a belly full by reading the front page of any major newspaper.
2: He also writes stuff on fiction writing, but says that writing non-fiction is like work while writing fiction is plain fun.
3: He gets many of his story ideas while on vacation in remote parts of the galaxy.
4: On Zaftan 31B, the home world of a race of aliens, the zaftans buy his books, burn them and use the ashes in obscene religious rites. His books are best sellers there.
5: Hank's book sales are doing fine. His latest revenue projection predicts he'll break even in 60 or 65 years. After that, he'll be laughing all the way to the bank.
6: He currently has five novels or novellas in some form of completion. He thinks he can do one a year if he doesn't get any more ideas on another novel or two. Obviously, this indicates a mind that is as disorganized as his desk and office
7: Hank and his wife Pat often time-travel while on vacation.
8: It is not true that Hank Quense is a pen name for Terry Pratchett or Tom Holt or Douglas Adams.
9: It is equally not true that Bernard Cornwell, Stephen King and other top authors ghost-wrote Hank's stories
10: Hank is thinking of running for emperor in the next Gundarland election.
11: His Strange Worlds, Gundarland and Zaftan 31B exist in a parallel universe only a short wormhole jump from our universe.
About Hank Quense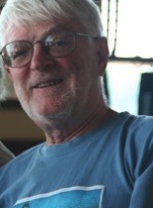 Award-winning author Hank Quense writes humorous fantasy and sci-fi stories. His motto is fantasy and sci-fi stories told with humor and satire. He has over forty published short stories and a number of nonfiction articles. On occasion, he also writes an article on fiction writing or book marketing but says that writing nonfiction is like work while writing fiction is fun. He refuses to write serious genre fiction saying there is enough of that on the front page of any daily newspaper and on the evening TV news. Hank lives in Bergenfield, NJ with his wife Pat. They have two daughters and five grandchildren.
Hank's previous works include Zaftan Enterprises, Zaftan Miscreants and Tales From Gundarland, a collection of fantasy stories. Readers Favorite awarded the book a medal and EPIC designated it a finalist in its 2011 competition. His Fool's Gold is a retelling of the ancient Rhinegold myth and Tunnel Vision is a collection of twenty previously published short stories. Build a Better Story is a book of advice for fiction writers.
He has a number of links where you can follow his work and his occasional rants:
Visit Hank's blog here.
Strange Worlds website:
http://strangeworldsonline.com/
Follow him on twitter:
http://twitter.com/hanque99
Facebook fan pages:
http://www.facebook.com/StrangeWorldsOnline
Purchase Falstaff's Big Gamble
here.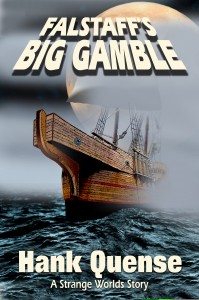 About Falstaff's Big Gamble:
Paperback: 230 pages
Publisher: Strange Worlds Publishing (August 4, 2012)
Language: English
ISBN-10: 098577911X
ISBN-13: 978-0985779115
This book is also available as an e-book.
This novel is Shakespeare's Worst Nightmare.
It takes two of the Bard's most famous plays, Hamlet and Othello, and recasts them in Gundarland. There, Hamlet becomes a dwarf and Othello a dark elf and Iago and his wife, Emilia, are trolls.
If that isn't bad enough, these two tragedies are now comedies with Falstaff, Shakespeare's most popular rogue, thrown in as a bonus.
Both Hamlet and Othello are plagued by the scheming Falstaff, who embezzles money from Othello. After Hamlet becomes king (with help from Falstaff) the rogue becomes the dark nemesis behind throne.
Purchase Falstaff's Big Gamble in paperback or kindle format at Amazon
About The Strange Worlds of Hank Quense
Hank Quense has written about the Strange Worlds that he has developed as a background to many of the books he has written. One of these worlds is called Gundarland, a planet inhabited by humans and fantasy creatures. The second is Zaftan 31B, home world of the alien race known as Zaftans. The books contain information on culture, races, religion, politics and other topics. His latest book in this series is Zaftan Enterprises.
Strange Worlds website:
http://strangeworldsonline.com