Paperback: 352 pages
Publisher: Random House Trade Paperbacks (July 10, 2012)
Language: English
ISBN-10: 0385344090
ISBN-13:
978-0385344098
This book is also available in hardback.
To purchase a copy of this book,just click here.
Every first Sunday in June, members of the Moses clan gather for an annual reunion at "the old home place," a sprawling hundred-acre farm in Arkansas. And every year, Samuel Lake, a vibrant and committed young preacher, brings his beloved wife, Willadee Moses, and their three children back for the festivities. The children embrace the reunion as a welcome escape from the prying eyes of their father's congregation; for Willadee it's a precious opportunity to spend time with her mother and father, Calla and John. But just as the reunion is getting under way, tragedy strikes, jolting the family to their core: John's untimely death and, soon after, the loss of Samuel's parish, which set the stage for a summer of crisis and profound change.
In the midst of it all, Samuel and Willadee's outspoken eleven-year-old daughter, Swan, is a bright light. Her high spirits and fearlessness have alternately seduced and bedeviled three generations of the family. But it is Blade Ballenger, a traumatized eight-year-old neighbor, who soon captures Swan's undivided attention. Full of righteous anger, and innocent of the peril facing her and those she loves, Swan makes it her mission to keep the boy safe from his terrifying father.
My take on this book:
"The Homecoming of Samuel Lake" is a story about families, set during the 1950's told in a down home country voice that immediatly drew me in and allowed me to connect with the characters.
Every year the day after school lets out for the summer, Samuel Lake and his wife Willadee load up the kids and head off for south Arkansas, in anticipation of the Moses family reunion, where Samuel drops off his wife and children while he heads on to the annual Methodist Minister's conference. Calla and John Moses Willadee's parent's always look forward to reconnecting with their daughter and while Calla enjoys Samuel's company John really doesn't like him. When the family embarks on their annual journey they never realize that the summer of 1956 is going to be filled with change. Tragedy strikes during the reunion, and that's just the beginning of the things that happen to the family.
There were so many things that I enjoyed about this story. I loved the setting, which had the feel of small town America, the country feel of the story allowed me to immediatly connect in such a way that I not only felt like I was in the midst of a big family but it also had me thinking about my family as well. Samuel Lake was like so many of the preachers from my childhood memories, open and willing to accept the downtrodden, and poor, people who didn't always fit in but he welcomed them into his flock because he knew God loved them. I think one of my favorite character in the story had to be eleven year old Swan Lake. I could easily envision her tromping around the farm, dressed in her brother's clothes, a real "live wire."
"The Homecoming of Samuel Lake" is about so much more than just Samuel Lake. Its about family and how their lives are bound together. Of course each story has a villian and this one is no different, Ras Ballenger has been mistreating his son Blade,who eventually lives with the Lakes.For me there was no down time with this book, and I actually hated to see it end. This is easily one of those books that I can see myself rereading in the near future. If your a fan of family drama, set in the south that will certainly pull you back into the fifties and have you laughing and crying but also leave you feeling richer for having read the story then you really need to pick up a copy of "The Homecoming of Samuel Lake."
Want to follow along on the TLC Blog tour to read what other reviewers are saying, then just click here.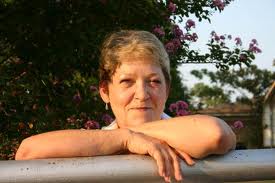 Jenny Wingfield
lives in Texas with her rescued dogs, cats, and horses. Her screenplay credits include
The Man in the Moon
and
The Outsider
.
The Homecoming of Samuel Lake
is her first novel.
http://www.rafflecopter.com/rafl/display/0de13f1/
" rel="nofollow">a Rafflecopter giveaway