Paperback:

304 pages

Publisher: Vantage Point (July 15, 2012)
Language: English
ISBN-10: 1936467356
ISBN-13: 978-1936467358
Publication Date:
July 15, 2012
According to folklore in the Smoky Mountains, "When you enter the world with your feet pawing the air before your eyes can see where to put them, it's a strong sign you'll lose your way from time to time."
Right from the start, Layla Tompkin's way forward is full of detours after her mother dies in breech birth, leaving only her and her devoted, sorrowful father, Ed. Then, at the age of five, Layla is rendered mute after a horrible accident. "God is leading Layla to speak in new tongues," proclaims Pastor Simpson at the local serpent handling church. Soon after, Layla is found to possess the gift of healing and her reputation spreads. Even Doc Fredericks, the area's skeptical physician, is forced to re-examine scientific tenets when Layla's healing touch is the only treatment that brings relief to his son Brian, whose legs were blown off by a landmine in Vietnam. Doubt and the miraculous, loss and survival, hurt and forgiveness collide when a secret challenges what everyone holds true, leaving Layla, her family and the community profoundly changed in a story about what it means to be truly healed.
My take on this book:
The day Layla Tompkin's came into the world was the day her mother died. While her father Ed was heartbroken over the love of his life he takes his baby girl home to raise. Layla had often suffered from night terrors, but one night when she was five years old something happened that had her shrieking in terror, and ultimately takes her voice, but leaves her with the capacity to heal with a touch, something her local doctor is skeptical of, that is until his son Brian a Vietnam vet starts benefiting from her help. When a tattooed stranger named Damien shows up at her house one day, they both feel an immediate connection, thing is Damien is battling his own demons in the form of memories from the war, and knows he can't stay. As he starts corresponding with Layla she longs to see him again. When an unspeakable act occurs at her home one afternoon Layla learns that the truths that she has always believed were a lie,which has her questioning God. Can the faith healer who loses her faith find forgiveness and healing for herself?
"The Healer of Fox Hollow" is a story that grabs hold of your heart and keeps it for the entire book. Even though Layla no longer speaks her voice spoke volumes in this story. Envisioning her a young child, where snake handling churches and people speaking in tongue was part of the culture. I could easily understand why she thought the snake had took her tongue. Her reactions and feelings seemed so realistic, after all what she believed was true for so many years really wasn't.Her father Ed was such an endearing character. He loved his wife so much that he never married again. A wonderful gentle, father
While Layla was an amazing character, the one that really stood out in my mind had to be Damian. Finding Layla's home by accident, his description seemed a bit scary at first but we soon learn that he is battle scarred from a war that he can't get out of his head,or heart. I found the poetry writing fit for him. If your looking for a different kind of story that will take you on a journey of the heart and mind, filled with interesting characters and a satisfying end then you really need to pick up "The Healer of Fox Hollow."
To follow along on the TLC Blog tour and read what other reviewers are saying click here.
About the author: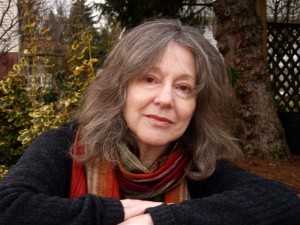 Wisconsin born JOANN ROSE LEONARD was Texas-raised and has chigger bite scars to prove it, theatre-trained and frostbitten at Northwestern University, and worked as an actress in New York. She studied mime in Paris with Marcel Marceau while dubbing films into English to earn her daily baguette; raised 9 kids (2 human, 7 goats) in State College PA, where she was founder and director of MetaStages, the youth theatre program at Penn State University, and, with her husband, Bob, a retired professor and theatre director, has relocated to CA to be nearer their sons, Jonathan (DJ Child, an award-winning music producer and founder of the multi-media company, Project Groundation) and Joshua (actor/filmmaker including The Lie, Higher Ground and The Blair Witch Project.) Joann is author of The Soup Has ManyEyes: From Shtetl to Chicago; One Family's Journey Through History, "From Page to Stage," a chapter in Holt Rinehart Winston's Elements of Literature and two collections of multicultural plays, "All the World's a Stage Volumes I & II" (Baker's Plays). In her research for The Healer of Fox Hollow, Joann discovered that the truth the novel is based upon is infinitely stranger than the fiction she wrote.