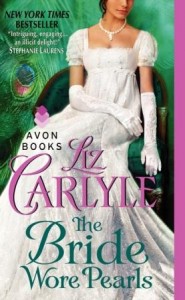 Mass Market Paperback: 432 pages
Publisher: Avon (July 31, 2012)
Language: English
ISBN-10: 0061965774
ISBN-13: 978-0061965777
This book is also available as an e-book.
Publication Date:
July 31, 2012
Beneath the elegant faÇade of Victorian high society, the mysterious men of the St. James Society play only by rules of danger and desire.
Rance Welham, the Earl of Lazonby, has survived scandal and disgrace, even evading the Queen's justice at the end of a hangman's rope. Now he's about to gamble everything on something far more dangerous—desire.
An exotic and elegant beauty, Lady Anisha Stafford fled her native India to seek refuge within London's secretive St. James Society. But accepting protection from someone called a cold-hearted killer is a double-edged sword . . . especially when he's the most intriguing man Anisha has ever laid eyes upon.
In a world where treachery abounds, no one can be trusted—and no true passion can be denied. Together, these two tempestuous souls will risk their lives for a love that could redeem them . . . or destroy everything they hold dear.
My take on this book:
Historical fiction seems to be my thing lately, so I was anxious to read "The Bride Wore Pearls."Well I quickly learned that this book is actually part of a series and should be read as such. I think I would have found the story much more interesting had I understood the characters a bit more.
After the death of her father, and then her husband Lady Anisha Stafford finds herself alone with her two small sons Tom and Teddy to raise in her native India. Her older brother Lord Ruthveyn is living in London and has found it to his liking so she decides for the betterment of her family to leave her homeland behind to start over in London. When she arrives in London though her brother is detained and sends Rance Welham in his steed to escort his sister and her boys home to his estate. Well of course Anisha and Rance are immediately drawn to each other, but something from Rance's past keeps him from feeling free to have a relationship. Do these two have a chance at love?
This book really started out slow for me. It really took me several chapters to really figure out who all the characters really were. I did enjoy the two lead characters and really thought Anisha was a good lead,she showed initiative and spunk.Rance was determined to figure out who framed him because he felt it was important to clear his name. The one thing that I found odd was the fact that Anisha's children were rarely mentioned in the story.
Overall, this is one of those stories that I would have enjoyed much more had I read the other books in the series. Liz Carlyle is a new to me author, and while I didn't overly connect with this story I would certainly wouldn't let that deter me from trying more of her work.
rating 3/5
A lifelong Anglophile, Liz Carlyle cut her teeth reading gothic novels under the bedcovers by flashlight. She is the author of seventeen historical romances, including several New York Times
bestsellers. Liz travels incessantly, ever in search of the perfect setting for her next book. Along with her genuine romance-hero husband and four very fine felines, she makes her home in North Carolina.