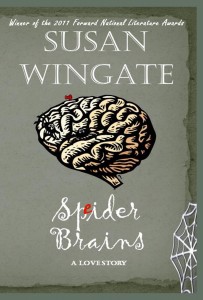 Paperback: 292 pages
(Also available for e-readers)
Publisher: Roberts Press (April 24, 2012)
Language: English
ISBN-10: 0985183705
ISBN-13: 978-0985183707
Publication Date:
April 24, 2012
"Simply put, Susan Wingate is a master of the written word. In SPIDER BRAINS, she weaves a heart-warming tale full of wit and intrigue: a nod to Kafka's Metamorphosis in a quirky blend with The Princess Diaries. There are laugh out loud moments with the teenage protagonist, Susie Speider, whose voice was well executed and credible. But there are also moments that tug at the heartstrings and even bring a tear to the eye, as we see Susie's angst when she faces pain from the past, as well as redemption through the relationship with her mother. Whether or not you're a fan of YA literature, you'll love SPIDER BRAINS. But don't expect anything ordinary!" ~from award-winning, no. 1 Amazon & no. 1 Barnes & Noble bestseller, Joshua Graham (author of "Darkroom" (Howard Books) and "Beyond Justice") After her father's death last year and, now, in the throes of a gnarly teacher's whim as she thinks ahead to college, a small black arachnid bites fifteen-year-old Susie Speider gets bit on the finger and sends her nights into fantastical dreams about taking revenge on a teacher–a one Ms. Morlson–who, ultimately, holds Susie's college aspirations in the sweaty palm of her cold calloused hand. But, after Susie figures out the dreams are real, she ups the ante and visits the teacher regularly but… as the spider. And, oh, by the way! Who is that boy spider munching on flies, hiding over there in the corner?
My take on this book:

Susie Speider is an almost junior at Ronkonkoma High School, whose grades were pretty bad, but are now on the upswing thanks to new glasses and new meds for her ADD.Only problem is her teacher seems to hate her, and that certainly is a problem. At home Susie lives with her mom Willa and her pussy cat Deliliah. New neighbors moving in next door could turn out to be something interesting.As if all this isn't enough, ever since Suzie was bitten by a spider she's been having dreams that she turns into a spider at night. Are they dreams or perhaps reality???
All I can say is WOW! I loved this book! The author authentically captures what I consider to be teen speak, which goes at high speed.Honestly at times I forgot that the book wasn't written by a teen. I must admit it's been several years since I was a teen, but this book had me thinking about those days,when teachers were the bane of my existence,and feeling like a dork was the norm.
With catchy chapter titles and an interesting cast of characters I found this book an un-put-down-able read. Susie's character was so easy to like and understand. I found myself enjoying her immensely, and while she provided several laughs there were some serious moments as well.I loved her nightly adventures, especially her descriptions of her mode of transportation, which happened to be her cat Delilah. "Spider Brains" deals with several topics that teens will certainly relate to. Overall a book geared toward teens but anyone who enjoys a great coming of age story will enjoy this one as well. Highly recommended!
About the Author
Most recently, Susan's novels, SPIDER BRAINS and DROWNING each reached Amazon Bestseller status in 2012. DROWNING won the 2011 Forward National Literature Award for Drama. She would love for you to read her books. You can find them all under the tab on this site labeled "Books". Susan's Favorite Quote: "If the doctor told me I had only six minutes to live… I'd type a little faster." — Isaac Asimov. SUSAN has written eleven novels, two short story collections, a few plays, one screenplay and tons of poems. Her latest 2011 novel DROWNING (contemporary women's fiction), won 1st place in the 2011 Forward National Literature Award and also won a finalist award for the category of Women's Fiction/Chick Lit in the 2011 International Book Awards. A vibrant public speaker, Susan offers inspiring, motivational talks about the craft of writing, publishing and marketing, and how to survive this extremely volatile (e-)Publishing industry. She presents these lectures for private groups and at writing conferences, libraries and bookstores around the country.