Product Details
Paperback: 186 pages
Publisher: CreateSpace (September 26, 2011)
Language: English
ISBN-10: 1466368756
ISBN-13: 978-1466368750
About Invisible:
Lola's not pretty. Lola's not popular. Lola wishes she could disappear … and then one day she does just that…
For seventeen-year-old Lola Savullo, life is a struggle. Born to funky parents who are more in than she could ever be, Lola's dream of becoming a writer makes her an outsider even in her own home. Bullied and despised, Lola still has the support of her best pal Charlie and Grandma Rose.
Not only is she freakishly tall, Lola's a big girl and when forced to wear a bathing suit at her summer job as a camp counselor, Lola's only escape from deep embarrassment seems to be to literally vanish. Soon after, she discovers the roots of her new "ability".
Slowly, with Charlie's help, Lola learns to control the new super power. The possibilities are endless. Yet power can be abused, too…
Then, when tragedy strikes, Lola must summon her inner strength, both at home and at school. She has to stand up for herself, despite the temptations and possibilities of her newfound super power.
A coming-of-age story that will warm the heart.
My take on this book:
Oh how I loved this book! I can easily say this one of my favorite young adult books this year. The author portrays the characters in a very realistic manner, making this a story that will easily resonate with anyone who has ever been a victim of bullying or self esteem issues!
Lola Savullo's life has always been a struggle. She is in her senior year in high school and because of her weight and size she has always been bullied. Not only is she bullied at school, but she doesn't really see eye to eye with her parents or her sister Eva, and often wonders how they can be so different. Lola dreams of being a writer some day and hopes to win a writing scholarship at her school. There are two people she can count on though and that's her eighty year old grandmother Rose, and her best friend Charlie, who has always been bullied as well. When Lola's summer job as a camp counselor forces her to wear a bathing suit, she is mortified, and when she finally heads to the pool she hears people talking about her as if she isn't there, and quickly realizes she is invisible. A few months later after returning home from a visit from her grandmother's she is approached by the school bullies and disappears again. She knows she has to tell someone and decides to tell her best friend Charlie. Charlie sees it as a way to get revenge on the people who have tormented them for years. When Jon,a boy whom Lola has a crush on learns about her disappearing power, he thinks its cool and starts showing an interest in Lola. Will Lola ever figure out how to control her powers, and is Jon actually interested in her?
I loved the character of Lola and her best friend Charlie. At the beginning of the story my heart just ached for both of them. It was so nice to see Lola blossom through out the story. It was interesting to see that as she changed so did the relationship with her family. I thought the author did a great job of dealing with a few tough subjects, such as death, bullying and peer pressure. A fast paced story, laced with humor,fantasy and characters that had me rooting for them makes this a must read story. The positive inspirational message is just an added bonus. Ms. Bannon is certainly an author to watch!
About Jeanne Bannon: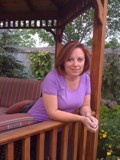 Jeanne Bannon has worked in the publishing industry for over twenty years. She began her career as a freelance journalist, then worked as an in-house editor for LexisNexis Canada. Jeanne currently works as a freelance editor and writer.
Jeanne's had several short stories published and won first place in the Writes of Caledon Short Story Contest. Her novels, The Barely Boy and Dark Angel were finalists in the 2010 and 2011 Strongest Start Contests. Another of her short stories "Thom's Journey" is part of an Anthology entitled A Visitor to Sandahl and is available at Amazon.com.
Invisible, Jeanne's debut novel, is about a teenage girl who isn't happy with herself and wishes she could disappear. And one day she does. Invisible is available on
Amazon
,
Smashwords
, and the Solstice Publishing website.
When not reading or writing, Jeanne enjoy being with her daughters, Nina and Sara and her husband, David. She's also the proud mother of two fur babies, a sweet Miniature Schnauzer named Emily and Spencer, a rambunctious tabby, who can be a very bad boy.
Want a chance to win your very own copy of this book?
In celebration of Jeanne Bannon's new release, she will be appearing at Pump Up Your Book's 1st AnnualHoliday Extravaganza Facebook Party on December 16. More than 50 books, gifts and cash awards will be given away including an one paperback and one e- copy ofInvisible! Visit the official party page here!