Your book is filled with so many wonderful anecdotes about Hollywood and as a tour guide it must be fun to share these with the tourists.
First, let me say that most of the tourists are great people and I think they appreciate when the tour feels unscripted and that you are putting out for them. I've got lots of memories like a lady sitting behind me who said," Excuse me, Stephen I don't mean to interrupt your spiel but did you know that Jerry Seinfeld is driving right next to you?" I was looking straight ahead so I didn't see him; not only was Seinfeld cruising along side in a beautiful Porsche but he was waving and trying to get our attention!
On one tour we stopped at Rodeo Drive. The people were returning to the bus after their visit and Steve Garvey came walking by. A life-long Dodger fan I said," Hi Steve." Happy for the recognition, he came over to meet the people on the bus. Unfortunately, the entire group was from England and Germany and not a single person knew who he was.
While giving tours of Hollywood in the 1990s, it was a pleasure for my customers and I to see ninety-something George Burns being driven around in a black Cadillac. The comedian always rode shotgun and smoked his trademark cigar. He would roll down the window, say hello and smile for the cameras. The women on the bus frequently commented on his cuteness. Usually, Burns rode to Forest Lawn Cemetery to talk with his late wife Gracie or went to have lunch at the Hillcrest Country Club. Since the 1940s, George had sat at Hillcrest's famed "Comedian's Round Table" with legends such as Jack Benny, Danny Kaye, Al Jolson, The Marx Brothers and George Jessel. When we encountered Burns, he was the last survivor of the group. The Hillcrest board of directors was always very strict about the club members following their rules. But they amended one policy so that anyone ninety-five and over could smoke.
Once, when I was leading a tour through Beverly Hills, my group had a pleasant experience meeting the nine-times-married Zsa Zsa Gabor. It was a few years after the notorious incident when she slapped a policeman. We met her inside Fred Hayman, a now shutdown boutique on Rodeo Drive. The former Miss Hungary of 1936, who was always willing to sacrifice her time to go overseas with Bob Hope to entertain American troops, graciously took pictures and shared a cappuccino with us. Zsa Zsa also gave beauty advice to my friend Laura, the store's gorgeous bartender, who looked like super model Cindy Crawford. It reminded me of the time a few years back when a girl who was about to break off her engagement questioned Gabor. The wealthy fiancé had presented her with a Rolls Royce, diamonds, a fur coat and a stove. What should she do? "Give back the stove," said Zsa Zsa. (When Zsa Zsa approached the bar, she stated that Laura had beautiful skin. She emphatically advised the younger girl to stay away from booze to maintain her looks. Then Zsa Zsa said, "By the way, darling, put a little extra brandy in the cappuccino today," and laughed good-naturedly.)
When I first started training as a tour bus driver I rode with other guides to see how they did it. One guy, unfortunately, did not endear himself to the customers with a patter of stale and sometimes sexist jokes. At one point, he showed the Hollywood Sign, and told the tragic story of actress Peg Entwistle, who unable to succeed in the transition from stage to screen, jumped fifty feet to her death from the top of the letter H. He finished the tale with the tagline,"Of course the last person to jump was a tour guide who didn't get tipped." There was a pause and then an Australian customer from the back of the bus shouted out," Oh yeah? Well there'll be another one tomorrow!"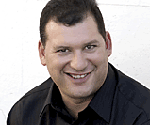 About Stephen Schochet:
Tim Sika, host of the radio show Celluloid Dreams on KSJS in San Jose has called Stephen," The best storyteller about Hollywood we have ever heard."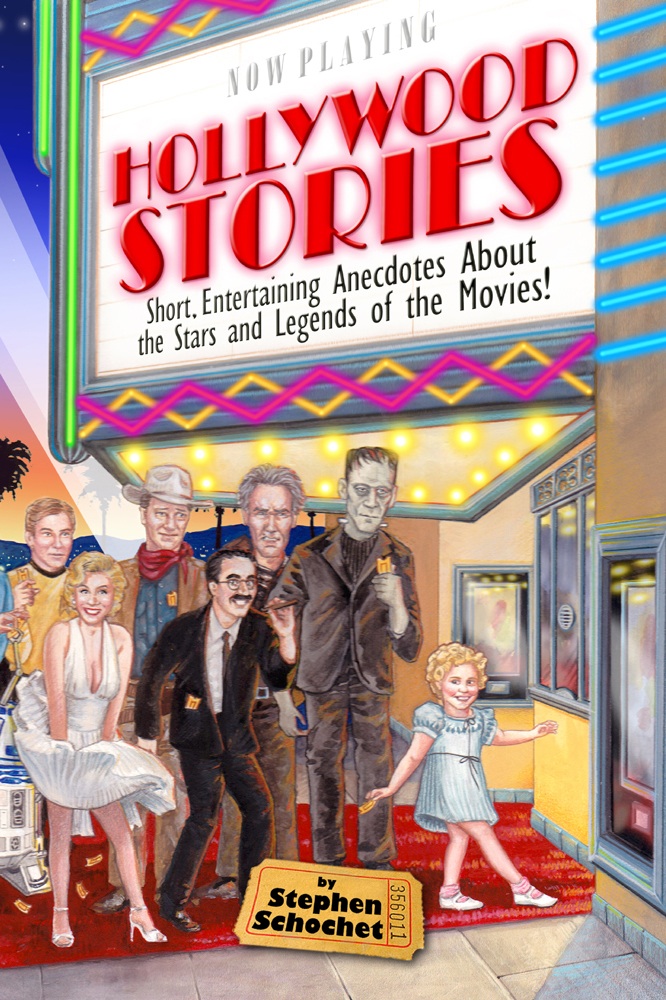 About Hollywood Stories:
At high noon on a cold November day in 1974, sixty-seven-year-old John Wayne faced off with the staff of the Harvard Lampoon on the famous campus in Cambridge, Massachusetts. The students had issued their challenge by calling the beloved American icon a fraud. Wayne, who had his new movie McQ to promote, responded by saying he would be happy to show his film in the pseudo-intellectual swamps of Harvard Square. After the screening, without writers, the former USC footballer delivered a classic performance. When one smart young man asked where he got his phony toupee, Wayne insisted the hair was real. It wasn't his, but it was real. The appreciative underclassmen loved him and after the Q and A session, they all sat down to dinner. Later Wayne, who was suffering greatly from both gout and the after effects of lung cancer (sadly the Duke only had five years to live), said that day at Harvard was the best time he ever had.
Just when you thought you've heard everything about Hollywood comes a totally original new book — a special blend of biography, history and lore.
Hollywood Stories is packed with wild, wonderful short tales about famous stars, movies, directors and many others who have been a part of the world's most fascinating, unpredictable industry!
What makes the book unique is that the reader can go to any page and find a completely engaging and illuminating yarn. Sometimes people won't realize that they are reading about The Three Stooges or Popeye the Sailor until they come to the end of the story. The Midwest Book Review says Hollywood Stories is, "packed from cover to cover with fascinating tales." A professional tour guide in Hollywood, Stephen Schochet has researched and told thousands of entertaining anecdotes for over twenty years. He is also the author and narrator of two audiobooks Tales of Hollywood and Fascinating Walt Disney. Tim Sika, host of the radio showCelluloid Dreams on KSJS in San Jose has called Stephen," The best storyteller about Hollywood we have ever heard."Full of funny moments and twist endings, Hollywood Storiesfeatures an amazing, all-star cast of legendary characters and icons and will keep you totally entertained!
Here is an excerpt from "Hollywood Stories."
In 1999, an Australian gentleman told me about an interesting experience he and his family had at Universal Studios. They were on the backlot tour passing one of the theme park's main attractions, the Bates Motel used in the 1960 horror classic Psycho, about a murderous young man named Norman Bates who loved his mother a little too much. As the guide gave out information about how director Alfred Hitchcock shot the picture, a tall man, dressed in drag and carrying a large knife, emerged from behind the old set and
charged toward the tram. The narrator seemed to know nothing about the Norman Bates look-alike and clammed up completely. The make-believe killer wore such a convincing maniacal expression that some of the paying customers were frightened and screamed when he raised his weapon. Then the "fiend" pulled off his wig and he turned out to be comic Jim Carrey
; the thirty-seven-year-old star was clowning around during a work break. After his laughing "victims" calmed down, Jim was happy to pose for pictures and sign autographs.
Marlon Brando wanted to work as little as possible when he played Jor-El, the Kryptonian father, in the 1978 movie Superman. The fifty-three-year-old actor told the film's producers that he only needed to do a voiceover and some object could stand in his place. After all, he would be part of an alien race; nobody knew what they looked like. Perhaps the extraterrestrial could appear as a green bagel. His bosses were both bemused and alarmed. They pointed out that Marlon's son would look human and be played by an earthling. A grinning Brando agreed to show up on the set. For his ten minutes of screen time, the star made an estimated nineteen million dollars while not bothering to learn his lines. In his most dramatic scene, Marlon held his baby above his head, speculated on the child's future, and then placed him on the space ship to escape the doomed planet. Brando hadn't bothered to learn his lines; his dialogue was penned on the bottom of the super infant's diaper.
Extra:
The first Superman movies were low-budget serials made in 1948 starring Kirk Alyn (1910-1999) in the title role. The cheaply made Saturday Matinee cliffhangers got surprisingly good reviews. Alyn was only given credit for playing Clark Kent; the studio claimed that no actor was qualified to play the Last Son of Krypton so he'd appear as himself. One scene required the Man of
Steel to rescue two would-be victims from a burning building. After the first take the director said, "That was great, Kirk. But could we do it again without you straining so much? I mean, you're super strong, lifting a couple of humans should be easy." Alyn, a body builder in real life, was indignant. "What do you expect? These
"People? Oh my goodness, baby, I'm sorry, we forgot to get you the
Extra:
In 1973, Marlon Brando (1924-2004) starred in the controversial and sex-charged drama Last Tango in Paris. This time around, the actor wrote some of his not memorized lines on the bottom of his shoe, and in a few scenes hopped around awkwardly on one foot in order to read them.
Extra:
Thirty-nine-year-old Jack Nicholson looked forward to working with the great Brando when they co-starred in the 1976 western, The Missouri Breaks. But Marlon, who eventually became Jack's next-door neighbor in the Hollywood Hills, disappointed Nicholson by reading cue cards, thus not making eye contact in their shared scenes. Later Brando hired an assistant to read the dialogue out loud into a radio transmitter from Marlon's trailer, which the actor
could then hear through an earpiece. Once, Brando was about to speak his lines when the device inadvertently picked up a police broadcast. The confused performer came out of character. "Oh my God! There's been a robbery at Woolworths."
In the 1930s, executives at Universal Studios found horror movies were a perfect antidote to the huge salaries demanded by film stars. Actors, hired to play mostly silent horrible creatures under several cakes of make-up, could be replaced without the public caring. British-born Boris Karloff was forever grateful when he landed the career-making role of Frankenstein's Monster. The forty-four-year-old part-time truck driver's legendary performance as the sometimes-sympathetic demon, paved the way for Boris to get more parts and a
better lifestyle. But in later years, Karloff revealed some unhappiness about theFrankenstein pictures. "I was only in three but I get blamed for all nine. Every time a new one comes out I get the fan mail and some other bloke gets the check.
"Each year on Halloween, Boris would sigh and then gently tell the many children who came to the door of his Beverly Hills mansion that he would not go trick-or-treating with them.
Extra:
Boris Karloff turned down the chance to reprise his role as
Frankenstein's Monster for the fourth time in Abbott and Costello Meet Frankenstein. He feared the creature would lose his dignity in a comedy. ActorGlenn Strange (1899-1973), who played the demon in House of Frankenstein(1944) and House of Dracula (1945), donned the green make-up once again forAbbott and Costello. When Karloff died in 1969, newspapers around the worldpublished obituaries of him accompanied by Strange's picture.
Extra:
Karloff's influence was felt in Berkshire, England, during the making of Hammer Film's The Curse of Frankenstein (1957). Fearing that any resemblance to Universal Studios' version of the monster would cause a lawsuit, make-up artist Philip Leakey (1908-1992) worked hard to make thirty-five-year-old actor Christopher Lee's version of the reanimated brute gruesome and unique. Lee, a former officer in the Royal Air Force, became so angry at Leakey's painful experiments on his visage that he threatened to run Philip through with his sword. The fearful face artist disappeared for several days, which delayed the production. Later, a calmer Lee complained about his job to co-star Peter Cushing (1913-1984), who played Baron Frankenstein. "Being the creature is horrid. I have no lines."
"You're lucky. I've read the script," replied Cushing. The Curse of Frankensteinwas critically panned and highly profitable.
Walt Disney's two daughters, Sharon and Diane, grew up sheltered from the limelight. The children had no images of Mickey Mouse around their home. Their father didn't go to many parties, preferring to stay in after a long day of work. Sometimes he would playfully chase the youngsters upstairs, cackling like the evil peddler woman in Snow White. When they behaved badly, Walt would admonish them with a raised eyebrow; his stern demeanor inspired the character of the wise old owl, in the 1942 animated feature Bambi. As toddlers, the brainy Diane and beautiful Sharon stayed blissfully unaware that their parents worried about them being kidnapped and allowed no pictures of the sisters to be publicly circulated. Once in 1939, a curious classmate questioned six-year-old Diane about her family. She went home and said, "Daddy, you never told me you were that Walt Disney," and asked him for an autograph.