Product Details
Paperback: 286 pages
Publisher: Booklocker.com, Inc. (July 15, 2011)
Language: English
ISBN-10: 1614344388
ISBN-13: 978-1614344384
Review copy provided by the author.
About the book:
In the first book in this three part series, teenagers Lenny and Saline travel independently to their old home in Washington - Saline, with a mysterious Christian group, and, Lenny, desperately in the footsteps of his older sister. What they find on their individual journeys will change not just their lives forever, but the world as they know it. Meanwhile, their stepbrother, Dustin, is about to discover a secret that society can no longer hide, a secret that might cost everyone around him their lives.
My take on this book:
This story starts out innocently enough about what seems to be a normal family who are living in Washington State and decide they need to move for a fresh start. Ten year old Saline and nine year old Lenny along with their mother Sally and father Charles leave Washington and move to San Pedro California. The plan is to stay with family friend Busek and his son Dustin until they can save enough money to get on their feet. As the story unfolds we realize that the children had been having strange nightmares which was what prompted the family move. After living with Busek for a short while a car accident leaves them orphans but Busek allows them to become a part of his dysfunctional family. Fast forward Saline is seventeen and in pursuit of things more spiritual and becomes involved in a church down the street from where she lives. She has had the feeling she needs to go back home to Washington and ironically the preacher decides to take a pilgrimage there inviting her along. In the meantime the nightmares have started plaguing Lenny again. Once Saline leaves for Washington Lenny feels compelled,as if its his destiny to make the trek as well. What they find when they return to their old home, is worse than any nightmare could ever be.Is it possible that those nightmares actually took place? What about Dustin, just what does he find himself involved in back in San Pedro?
U.L.Harper really knows how to tell a story in such a way that he hints at what might be happening but once it was finally revealed what was going on I was totally shocked as well as surprised. He pulled me in with the characters and their tragedies of not only moving to a different area, but then being left orphans in the care of Busek. The only word I can think to describe Busek is weird. The relationship he had with the children was odd, he abused Dusty and seemed just to leave Saline and Lenny alone. I loved the writing style, the author would get you comfortable with a direction that the story was going, making me think I might know what would happen next and then Bang he takes you another direction! My only complaint about this story is that we have to wait on the next book in the trilogy.
If your a fan of dark stories that easily get in your head and creep you out, then this book is right up your alley I think fans of horror/Sci-fi will certainly enjoy it. Definitely a different kind of plot filled with relate able characters that hooked me in and left me wanting more! Recommended!
About the author: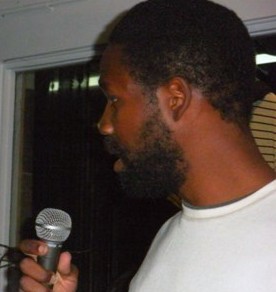 U.L. Harper is an after-school program Site Director in Long Beach, California. Over one hundred students attend his program. He previously worked as a corporate manager, and a journalist for a now defunct news agency in Los Alamitos, California. Newspapers are part of his writing background but he also dabbled in poetry. His poetry is published in The Body Politic chapbooks. He is the author of In Blackness, The Flesh Statue and the short story book Guidelines for Rejects. You can visit U.L. at http://ulharper.com/