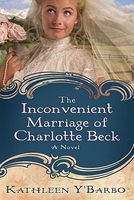 Product Details
To purchase a copy of this book click here.
Paperback: 352 pages
Publisher: WaterBrook Press (June 21, 2011)
Language: English
ISBN-10: 0307444821
ISBN-13: 978-0307444820
Product Description from Amazon.com:
Unlikely romance is sometimes just an inconvenient marriage away
Charlotte Beck may be entering adulthood, but she can't seem to keep to her stubborn, independent spirit from bucking social protocol. Fed up with her behavior, Charlotte's father Daniel pressures her to settle into a nice marriage despite knowing she is set on going to college. Then Daniel sees Charlotte with the handsome but annoying English astronomer Alex Hambly, and everything changes.
Though Alex and Charlotte can barely stand one another, Daniel offers them a deal they can't refuse: if they agree to marry, he will save Alex's family from financial ruin and grant Charlotte the freedom to go to college. Reluctantly the couple agrees, but in private they plot to annul the marriage as soon as possible.
But when Alex's feelings change and he refuses to dissolve their contract, will Charlotte find a way out of her vows? Or will she discover that maybe this marriage isn't so inconvenient after all?
My take on this book:
This book starts out in London in 1887, where Charlotte Beck is being introduced to English society, but she would rather be back home in Colorado. She is an unconventional lady who is somewhat modern for the time period, instead of longing for a husband and babies Charlotte wants to attend college and work in her fathers business, and as the first sentence of the book states, what Charlotte Beck wanted, Charlotte Beck generally got, BUT her father decides the best thing for Charlotte is to get married,and arranges a marriage of convenience between Charlotte and Alex Hamby. The deal is that Charlotte will be able to go to college and Alex's family will gain financially. While the duo agrees they secretly are plotting how they will have the marriage dissolved as quickly as possible, but Alex decides that he doesn't want out of the marriage. What will Charlotte do? Can she figure a way out or will she realize that her priorities have changed and marriage might not be so bad after all?
I am a huge fan of historical fiction, and normally jump right into a story and don't put it down until I finish it, but with this book I didn't find such a connection. Once I read the acknowledgements in the back I realized that it is actually the third book in the Women of the West Series and perhaps I would have enjoyed this one more had I read the first two books.
I did enjoy that the plot was a bit different than alot of stories that revolve around arranged marriages, usually the plot builds up to such marriages or often the bride runs away and the marriage never takes place, but in this story the wedding is arranged early on in the story and then after Charlotte finishes school the wedding takes place in 1891, and thus begins the second half of the book. I did like the character of Charlotte, who was determined to get what she wanted, and didn't mind scheming to get it. I also found the verbal sparring that went on between Charlotte and Alex quite enjoyable. I think some of my favorite parts were reading the Miss Pence quotes that opened up each chapter. I also think the author wrapped the ending up quite nicely.
Overall not my favorite historical read, but I did enjoy it and would recommend it to anyone who likes historical fiction. I also liked the cover it was very eye appealing, and for me that's always a bonus for a book.
A complimentary copy of this book was provided by the publisher in exchange for an honest review.
rating 4/5