Product Description from Amazon.com:
In the sequel to Simple Secrets, watch how a raging current of deceit runs through the once peaceful Mennonite community of Harmony, Kansas. As soon as Gracie decides to stay in town and take freelance work involving a local land developer, the townspeople blame her for bringing on this change that could ruin life as they know it. Gracie's motives in romance with Sam, in helping an oppressed teenager, and in trying to make a living are all suddenly drawing suspicion. Should she leave or stay and fight for what she has come to love?
My take on this book:
Simple Deceit is the second book in Nancy Mehl's Harmony Series, and in this story Gracie Temple has decided to make Harmony, Kansas her permanent home, but staying hinges on the fact that she will be able to do freelance work and her first job is for a land developer who wants to build a retirement community outside Harmony. As she wraps up her job in Wichita and heads home to Harmony, things start to go awry as soon as she gets back into town. The local sheriff pulls her over, and then she sees a woman leave an abandoned baby on the church steps, but when rumors circulate that the baby actually belongs to Gracie, her longtime beau Sam Goodrich doesn't respond well to the rumors. To top things off the man who was going to sell his property to the developer winds up dead! Add to all this is a blizzard that hits the town, and one of Gracie's friends is caught out in it! How will things work out in Harmony? Will Gracie and Sam work out their problems, and what about the handsome land developer that seems to have his sites set on Gracie?Will Gracie be able to stay in Harmony even if the land deal falls thru?
While this is the second book in a series I feel like it could easily be read as a stand alone work, the author provides enough background that you feel perfectly at ease in the tiny town of Harmony. Reading this book was like visiting with old friends, I love the Sam's aunt Myrtle Goodrich aka as "Sweetie," even though she often appears gruff on the inside she really is a sweetie, I particularly enjoyed the little story with the cat Snickle. While this book wasn't as exciting as the first book in the Harmony Series it is still a worthwhile read. Anyone who enjoys a nice mystery woven together with a bit of romance set in a nice little town full of interesting characters really should check this series out.
Thanks to Netgalley and the publisher for providing a copy of this book for review.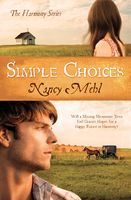 Here's a sneak peak at the next book in the Harmony series titled
Simple Choices
which is due out June 1st.
Paperback: 320 pages
Publisher: Barbour Books (June 1, 2011)
Language: English
ISBN-10: 1602607826
ISBN-13: 978-1602607828
Product Description
Set your GPS for the small town of Harmony, Kansas, where a city girl becomes embroiled in mystery and romance. Graphic designer Gracie Temple is engaged to Sam Goodrich. As she returns from chaperoning her protégé, Hannah Mueller, during summer art classes in the city, Gracie is eager to finish her wedding plans and marry the man of her dreams. But unexpected events threaten to disrupt the peaceful lives of those in Harmony—and Gracie's wedding. Hannah goes missing, and Gracie's happy plans become a mess of suspicion and fear. Will Gracie ever find contentment and marital bliss in Harmony?