Product Description
About Dear Sparkle: Cat-to-Cat Advice from the World's Foremost Feline Columnist
Face it, kitties, your humans can't help you untangle your problems — especially when they're usually the ones driving you crazy! But never fear, the world's foremost feline authority, Sparkle the Cat, is here to solve all of your kitty conundrums. With 70 Q&As, "Sparkle Says" sidebars, and full-color photos throughout, this guide is definitely NOT your usual human-written cat book.
Whether you're a confused kitty who doesn't understand why you're supposed to stay off the couch, a cat who's furious because the new puppy ate your catnip stash, or a freaked-out feral who wants to return to the wild, Sparkle has the wise — and often hilarious — answers for your woes. And who knows? Humans who read it (with your permission, of course) may even learn something new about the way we behave.
My take on this book:
Sparkle writes her book in an informative but humorous way, so even though it is geared toward kitties, we humans can learn alot from Sparkle the Cat, she dispenses answers to the most pressing of questions in a no nonsense way, that is laugh out loud funny, but will give kitties hope that if they take Sparkle's advice their humans just might be trainable.
Sparkle breaks the book down into six different categories such as Games Kitties Play, Strange Invasions, Cat vs. Human, Epi-curious, Litter Box Letters, and Mixed Mailbag for those letters that just didn't fit into any cat-e- gory. There are also "Sparkle Says" tidbits peppered throughout the book, that is full of kitty wisdom. A few of my favorite "Sparkle Says," are "There are no bad cats, just poorly trained humans," her advice to kitties while being destructive is to always take time to stop and sniff the catnip. With such sage advice as that its easy to see why this is Sparkle's second book! I found this book to be addictive reading, once I started reading I kept thinking just one more letter, but couldn't put it down.
While this book is filled with lots of humor there is also loads of useful information, its almost like an owners manual for cats! I think any cat owner would love this book, and it would make a beautiful Christmas gift. The pictures alone makes it a great gift, and the useful information along with the laughs it will bring the reader are just like icing on the cake! Pick this book up for the cat lovers in your life, I know they will agree it's purr-fect!
my rating 5/5
About the author: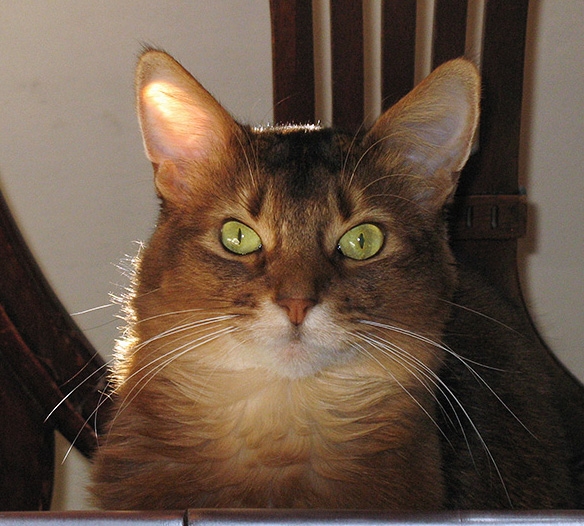 Sparkle is an award-winning author, blogger, advice columnist and supermodel. She is also a cat – a ruddy Somali of champion lineage, in fact, whose father, GC Tajhara's Miles Davis, was twice on the cover of Cat Fancy. Sparkle's first book, Dear Sparkle: Advice from One Cat to Another, won the Wild Card category at the 2007 Hollywood Book Festival and honorable mentions in several other contests. She also recently came home with the Pettie Award — the pet blogging equivalent of an Oscar — for Best Cat Blog. Sparkle lives in Los Angeles with two humans, two feline roommates (both rescue cats), and (unfortunately) a dog.
Dear Sparkle: Cat-to-Cat Advice from the World's Foremost Feline Columnist (Adams Media) is her second book.
You can visit Sparkle's blog
by clicking here!
To purchase a copy of this wonderful book
click here !

Even though I was provided a review copy of this book by the author and Pump Up Your Book Promotions it in no way alters my opinion of this book.