And One Last Thing
Molly Harper
Gallery (July 27,2010)
320 pages paperback
Product Description from Amazon.com
"If Singletree's only florist didn't deliver her posies half-drunk, I might still be married to that floor-licking, scum-sucking, receptionist-nailing hack-accountant, Mike Terwilliger."
Lacey Terwilliger's shock and humiliation over her husband's philandering prompt her to add some bonus material to Mike's company newsletter: stunning Technicolor descriptions of the special brand of "administrative support" his receptionist gives him. The detailed mass e-mail to Mike's family, friends, and clients blows up in her face, and before one can say "instant urban legend," Lacey has become the pariah of her small Kentucky town, a media punch line, and the defendant in Mike's defamation lawsuit.
Her seemingly perfect life up in flames, Lacey retreats to her family's lakeside cabin, only to encounter an aggravating neighbor named Monroe. A hunky crime novelist with a low tolerance for drama, Monroe is not thrilled about a newly divorced woman moving in next door. But with time, beer, and a screen door to the nose, a cautious friendship develops into something infinitely more satisfying.
Lacey has to make a decision about her long-term living arrangements, though. Should she take a job writing caustic divorce newsletters for paying clients, or move on with her own life, pursuing more literary aspirations? Can she find happiness with a man who tells her what he thinks and not what she wants to hear? And will she ever be able to resist saying one . . . last . . . thing?
My take on this book:
And One Last Thing, by Molly Harper is a hilarious look at how one woman handles being cheated on.
When Lacey finds out quite by accident, that her husband is cheating on her with his receptionist, well you know what they say, hell hath no fury like a woman scorned. Lacey wants revenge.
So in a fit of anger she sends out the sordid details of her husbands escapades to friends and business associates in the company newsletter. She decides to hide out at her parents house but soon the fallout from what she has done is to much and she decides to get outta dodge so to speak.
She retreats to a secluded family cabin where she can find some solitude but instead finds a grumpy,brooding, hunk of a man in the cabin next door who doesn't want to be bothered. So after a few bumpy starts they finally become friends.
Lacey's character is so funny and she always says just what she thinks. The descriptions the author uses to paint this story for us is so vivid that you feel like your part of the story.
This was a laugh out loud book for me, hands down one of the funniest books I have read this year.
About the Author: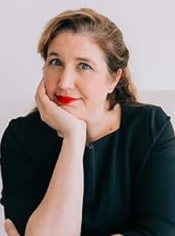 Raised in Mississippi and Kentucky, Molly Harper graduated from Western Kentucky University with a bachelor's degree in print journalism. She worked for six years as a reporter and humor columnist; her reporting duties included covering courts, school board meetings, quilt shows, and once, the arrest of a Florida man who faked his suicide by shark attack and spent the next few months tossing pies at a local pizzeria. Molly lives in western Kentucky with her husband and daughter.
Even though I was provided a complementary copy of this book from Gallery Pocket Books to review in no way does it alter my opinion of this book.